Introduction
This is a quality interface converter from USR. Their products are known for their quality, good documentation and easy to use software.
The USR-WIFI232-610-V2 is a RS232/RS485 to Ethernet/WiFi Interface Converter. It can be used to send data from RS232/RS485 to Ethernet/WIFI in TCP client, TCP server, UDP client and UDP server modes.  It can be configured via built in webpages, and firmware is network upgradable. This device is very well built, and is supplied in a sturdy metal enclosure. It is manufactured with high quality components, and the latest PCB assembly techniques. 
This product consists of the following:
  1 x Genuine USR-WIFI232-610-V2
  1 x DSub Male to Female Cable
  1 x WiFi Antenna
  1 x Australian Wall Mount Power Supply, 5V, 1A, 2.1mm Connector
Additional information is available on USR's product site.
Additional information is available on https://www.usriot.com/products/serial-wifi-converter.html
This product will be shipped via eParcel from Sydney (except if you upgrade to express post during checkout).
Features
Hardware flow control (RTS/CTS) RS232 interface, male mouth(needle) consistent with computer pin definition
DC5~18V wide voltage input, can provide 2A current MP1482DS DCDC power supply chip, keep system reliability.
RS232 RS485 automatic switching
RJ45 network connection, support wired Ethernet transmission
Reload button, do not worry incorrect settings (in working status, press the button 3-5s then it load to default settings and automatic restart)
Rich status indicator light: Power Ready Link RXD TXD
Support IEEE802.11b/g/n wireless standards
Support TCP/IP/UDP network protocols
Support RS232 RS384 data interface
Support work as STA/AP/AP+STA mode
Support router/bridge Mode networking
Support external antenna
Support transparent transmission mode
Support AT+ instruction set for configuration
Support friendly web configuration page
Support palmodic signal
Single 5-18V power supply
Small size: 84 x 84x25mm
FCC/CE/RoHS/TELEC certificated
Typical Applications
Serial RS232/RS485 to Wifi or Ethernet
WiFi remote control and monitoring, TCP/IP and WiFi coprocessor
WiFi remote control toy such as aircraft and cars
WiFi Internet radio, camera, digital photo frame
Medical instrument, data acquisition, handheld device
WiFi fatness testing machine, smart card terminal, Smart Home
Instrument, equipment parameter monitoring, wireless POS machine
Modern agriculture, military field and other wireless related secondary development applications
Simple Transparent transmission
Transparent transmission means that whatever is transferred, our device plays the role of a channel and sends data to the target without modification. On-site monitoring equipment sends data to Wireless Device Servers transparent data transmission terminal by itself port, the terminal CUP receives data by serial port and package data.
Various parameter setting method
Software Settings
Download settings software, search Wireless Device Servers in the LAN through the serial port server IP, name, MAC address, or the version number. Then set the parameters you need, otherwise keep the default.
Web-page Settings
Open your browser and inter the default IP address of the Wireless Device Servers.
Open the login page of Serial Server, Enter the user name and password (default admin).
After setting parameter, Click "Save" and "Restart", then setting will take effect.
Serial AT commands Settings
User can set parameter by module itself without going through another computer to configure. This setting method is used in the following situation: user have to configure IP address and destination IP address on site. AT command can meet the demand. After MCU connects serial server module by TTL (UART), MCU can configure setting by AT command.
Quick Start
The simplest way to configure and use these modules is:
Connect the antenna, and power the module
On a PC with WiFi, look for a new network with "610" in its name, and connect to it
When asked for a username and password, use "admin" and "admin"
In a browser, connect to the built in webpage of the device at http://10.10.100.254
Configure the device via the the "quick start" section of the webpage.

If two devices will be used to connect to each other, configure the one for AP(Access Point) mode, and the other for STA(Station). Remember the SSID of the device configured as AP, and use it for the device configured as STA. This way, the STA device will connect to the Access Point provided by the STA device. 
Specifications
System Information
 
Processor
MIPS solution (32bit 360MHz)
RAM / Flash
8M / 1M
Ethernet
 
Port Number
1
Interface Standard
8 pin RJ45
Rate
10/100 Mbps, MDI/MDIX, auto switch between cross and direct connection
Protction
2KV electromagnetism isolation, shell insulation blocking
Network Protocol
IP, TCP, UDP, DHCP, DNS, HTTP, ARP, ICMP, Web socket, Httpd client
Receive Buffer
64K byte
Max. Client Number in TCP Server Mode
32
Wi-Fi
 
Standard
802.11 b/g/n
Network Mode
AP / Station / AP+Station
STA Number in AP Mode
32
Frequency Range
2.412 GHz ~ 2.484 GHz
Transmit Power
802.11b: +20 dBm (Max)
802.11g: +18 dBm (Max)
802.11n: +15 dBm (Max)
Receive Sensitivity
802.11b: -89dbm
802.11g: -81dbm
802.11n: -71dbm
RF Model
DSSS / OFDM
Transmission Rate
802.11b:11 Mbps
802.11g:54 Mbps
802.11n:54 Mbps
Transmission Range
Max 400m (open horizon, 3dbi antenna)
Wireless Network Security
WEP: 64-bit/128-bit data encryption
WPA, WPA2, 802.11i: advanced mode and PSK mode
Encryption: 128-bit TKIP, AES, TKIP/AES
Antenna Interface
SMA
Serial
 
Port Number
2 (1*RS-232, 1*RS-485, can not work at the same time)
Interface Standard
RS-232: DB9 pin type, RS-485: 2 wire (A+, B-, GND)
Data Bits
5, 6, 7, 8
Stop Bit
1, 2
Check Bit
None, Even, Odd, Space, Mark
Baud Rate
300 bps ~ 460800 bps
Flow Control
RTS / CTS
Buffer
Send and receive 4K bytes respectively
Protection
RS-485: surge protection, overvoltage protection
RS-485 Pull-up and Pull-down Resistor
2.2 KΩ
Software
 
Virtual Serial(USR-VCOM)
Windows 2000 or higher (32 bit/64 bit)
Configuration
Built-in webpage, computer set-up software, serial AT command
Basic Parameter
 
Size
84 x 84 x 25 mm
Operating Temp.
-40 ~ 85°C
Storage Temp.
-40 ~ 125°C, 5 ~ 95% RH (no condensation)
Input Voltage
DC 5 ~ 18 V
Working Current
140 ~ 350 mA @ 5V
Power
AP: 140mA @ 5V, STA: 140mA @ 5V, EPHY: 170mA @ 5V
AP: 60mA @ 12V, STA: 60mA @ 12V, EPHY: 70mA @ 12V
More
 
Certificate
CE, FCC, ROHS, TELEC
Warranty
2 years
Accessory
5V1A power supply, serial line, cable, 3dbi antenna
Additional Information, Software & Documentation
For additional Information, Software & Documentation, see the product page on USR's website.
Datasheet: https://modtronix.com/mx-m/usr/usr-wifi232-610_datasheet.pdf
User Manual: https://modtronix.com/mx-m/usr/usr-wifi232-602-604_610_v2_user_manual.pdf
Quick Start Guide: https://modtronix.com/mx-m/usr/usr-wifi232-602-604_610_v2_quick_start_guide.pdf
For additional Information, Software & Documentation, see the product page on USR's website:
https://www.usriot.com/products/serial-wifi-converter.html
Modes of operation
This product can be used for:
AP Mode
STA Mode
AP+STA Mode
One AP and one STA Mode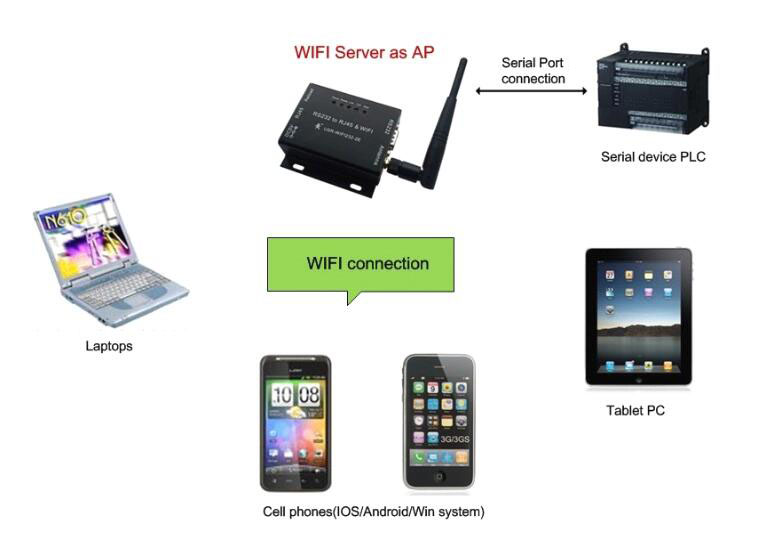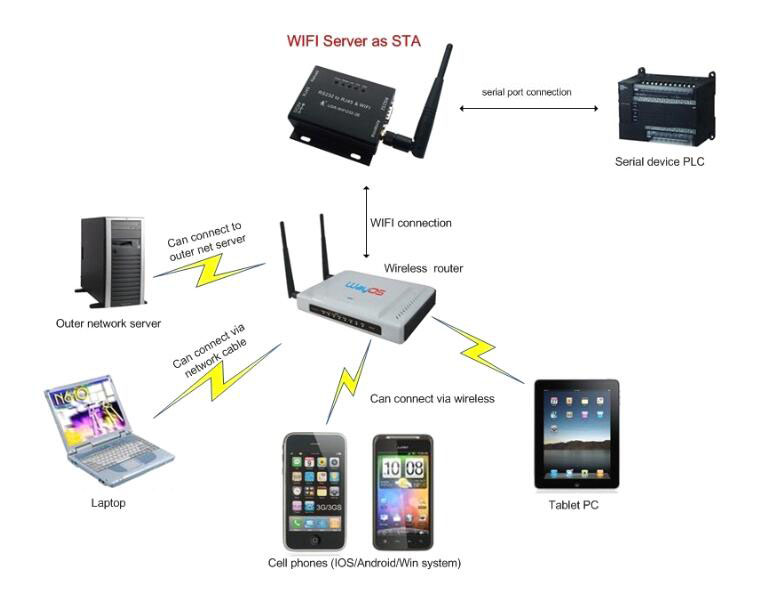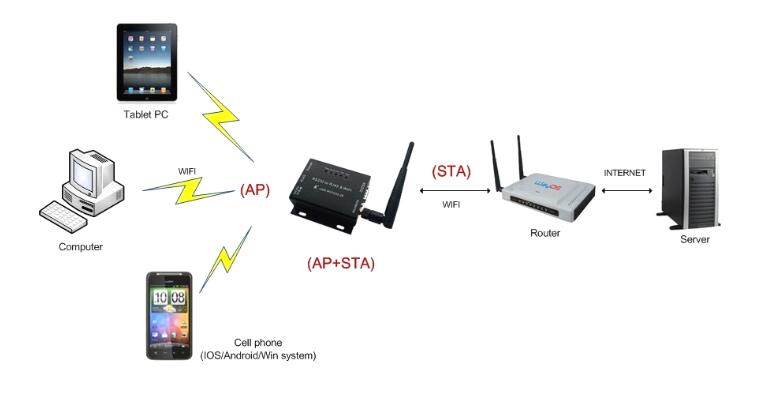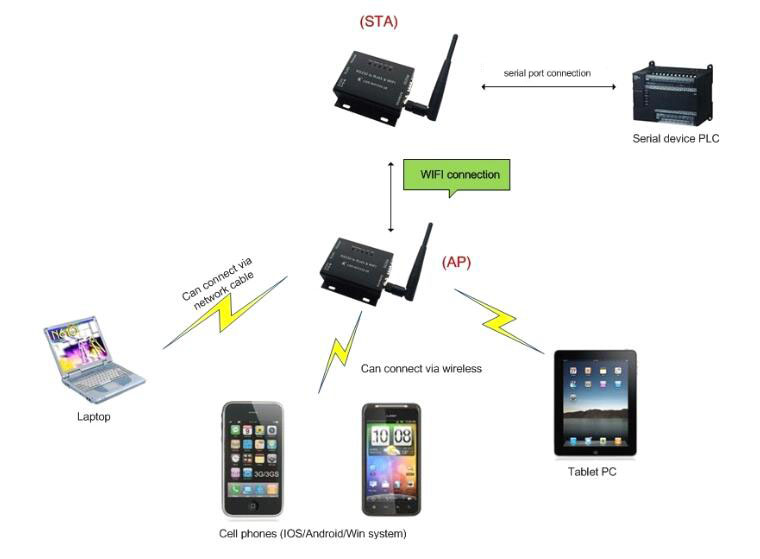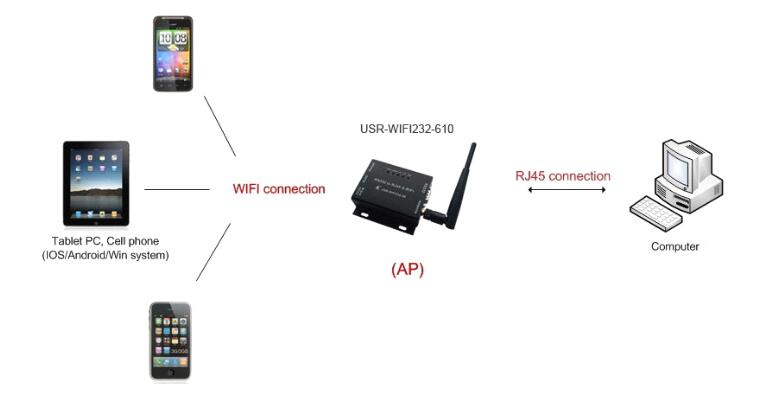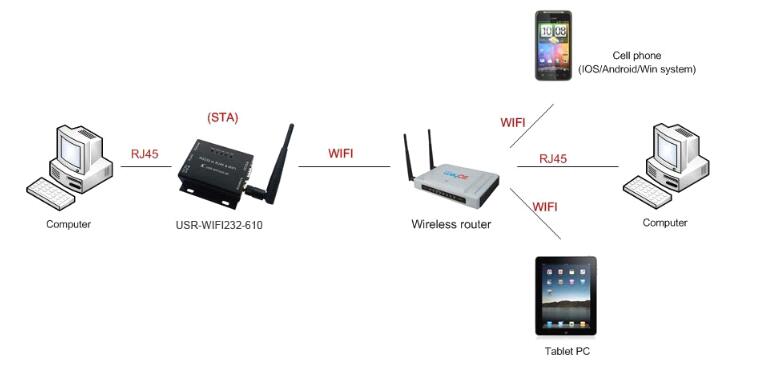 Comparison between 602, 604, 610 and 630: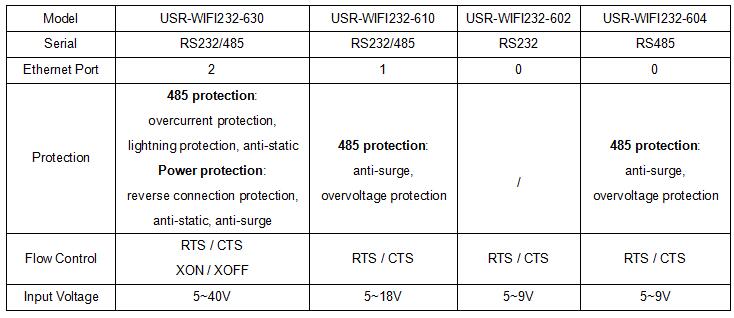 Package Includes
1 x Genuine USR-WIFI232-610-V2  (RS232/RS485 Serial to WiFi/Ethernet Converter)
1 x Australian Wall Mount Power Supply
1 x WiFi Antenna
1 x Serial DSub Male to Female Cable